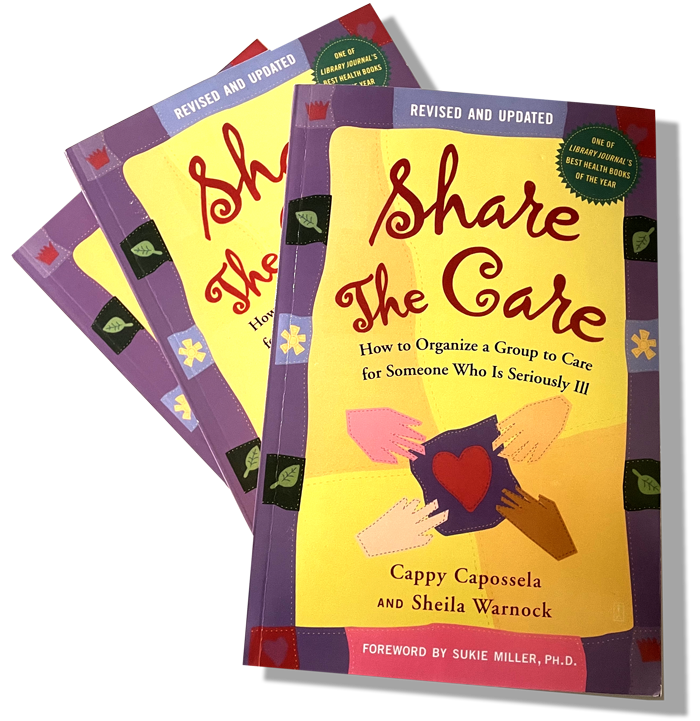 The STC model is a proven guide that:
Details how to transform and bond a group of people who may not know each other and want to help
Organizes a simple easy-to-follow system, seven guiding principles, and 23 color-coded forms to guarantee every job will get done and no one person will have too much to do
Uncovers group skills, talents, and experience to make the most of each individual's resources and connections
Offers ways to cope with group issues so everyone can stick together through the good and the tough times
Navigates the medical maze of doctors, hospitals, treatments, medications, going out of town for treatment or trials and much more
Deals with the fears and emotional issues that will crop up while helping someone you know and love
Transforms caregiving into a meaningful, loving experience and replaces stress, fear and loneliness with teamwork, courage and friendship
THE KEY
TO A SUCCESSFUL JOURNEY
ACCEPTING HELP

Our experience is that the person who needs the most help can't see it!
The first step is for the caregiver and/or care recipient to agree to allow others to help.  As a friend or caring relative, don't take "No!" for an answer. It is an emotional decision that for others may require a bit of time and patience to resolve. However, if there is a crisis, there may not be the luxury of time.  Caregivers need to understand how critical it is for them to remain healthy—and friends who can help are the best answer.

Why Accepting Help Makes Sense For:
The Caregiver:
is already overwhelmed and the stress is affecting his or her health in a negative way
won't continually have to ask for help
needs to go back to work or school
can find support for others in the family. When someone is ill, their entire family is hurting
The Person Needing Care:
can experience a better quality of life through the support of others who care
has an illness that will progress and require increasing amounts of care
has no family nearby (or at all) can benefit immensely having a "created family"
The Individual Group Participant:
may never have been a caregiver. Yet he or she can learn in the company of others who have the skill or past experience
can discover purpose or gain a new perspective on life during the experience
may become aware of strengths within themselves that they never knew existed
will experience firsthand what a group working together is capable of achieving
WHAT DO PEOPLE WHO HAVE BEEN
A STC CAREGIVER, CARE RECIPIENT
OR GROUP MEMBER SAY
STC GROUPS
AROUND THE WORLD
HELP FRIENDS…
With support for all kinds of circumstances:

Temporary, serious or terminal Illness, recovery from accident, surgery, stroke
Provide care for all kinds of people:

Quadruplets, teens, older adults, LGBTQ, people who live solo
Ease a loved one's transition into:

Hospital, home, assisted living facilities, hospice or nursing home